Photography to me is more than just a "job", it is food for my soul. I love meeting people and their pets through photography, capturing memories to last a lifetime. Which is why I launched the brand ambassador program in 2019. I wanted to give back to the pet parents of Sydney and share their stories on my social media accounts. Each ambassador also receives digital files from their photo sessions to share with their online audience.

Please meet my ambassadors for 2019, and don't forget to give them a follow on their social media accounts.

Sprocket

Sprocket is a super cute Kelpie x Border Collie puppy who found his forever home with Chanel. At the time of our photo session Sprocket was 14 weeks old, and was already off lead trained and knew a few tricks, thanks to his working dog breeds. Chanel and Sprocket were in Sydney at the beginning of the year, and soon made the long trip back home to Alice Springs. I have received a few photo updates of this handsome boy since our photo session, he has certainly grown into a handsome young boy!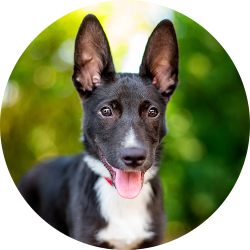 Boy George

Boy George is not your average dog, he is full of attitude and always demands pats! He is a one year old Brussels Griffon, originally bred in New Zealand then flown to Australia to be with his forever pet parent Georgia. He spends his day in the grooming salon Georgia works at, watching the day go by and being snuggled by every client. Once the day is over, he is known to have a zoom around the backyard, that's when he is not at either obedience classes or agility training! For a small, young boy, he sure is smart!